"Individuals can and do make a difference, but it takes a team to really build something"
Chairman and Whole Time Director
A young and enthusiastic post-graduate entrepreneur processing in-depth business experience in various companies carrying out activities of Bio medical waste (BMW) as operator of facilities in Haryana, Delhi and UP. He has vast experience of 15 years in the promotion of business and the marketing of BMW facilities. As a founder partner/ director, he has established following 2 BMW treatment facilities in NCT of Delhi & Haryana State.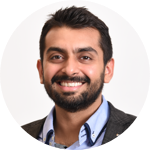 Mr. Pranav Tripathi is the Managing Director and co-founder of biotic. He is a young blooded entrepreneur who leads biotics marketing, business development, strategic relationships and is responsible for the company's growth and strategy planning. Mr Tripathi has 10 years of entrepreneurial experience in establishing various ventures in Waste Management, Food Processing, Power and Healthcare Sectors.
Mr. Tripathi holds a Bachelor of Arts Degree in economics and international relations from Tufts University, USA.
Mr. Tushankur Saroha a chartered accountant by profession brings more than 18 years of financial expertise and deep operational experience to biotic. He has vast knowledge and experience in implementation, testing, support, sustain and optimization services of F&A/ERP/IT solutions. Prior to biotic, he held key leadership positions in some of the well renowned IT companies. He has worked for global (US and UK Based) IT clients including NHS- UK.
He has completed his senior management program from IIM-Calcutta and is a rank holder in Information System Audit (ISA) conducted by ICAI in 2016 and a PRINCE 2 practitioner.
Mr. Kuldeep Panwar is a young and dynamic Graduate and software professional. He is having more than 12 years of experience of setting up the BMW Treatment facility and its operation. He has in-depth knowledge and experience in management of Bio Medical Waste.
As a founder director, he has established two BMW treatment facilities in NCT of Delhi & Haryana State.
Mr. Vishesh Gaur is a Post Graduate in operations and marketing and Graduate in Engineering in IT. He begun his career with Hero Group and was looking after the purchase and customer relationships for four years. At Biotic Vishesh is a Executive Director and handles the Operations and Marketing in the Gurgaon facility since the last 5 years.
Vikas Ghallot
Chairman and Whole Time Director
Pranav Tripathi
Managing Director
Tushankur Saroha
IT - F & A Head
Kuldeep Singh Panwar
Non Executive Director
Vishesh Gaur
Whole Time Director
Kamlesh Gaur
Non Executive Director